How to Start a Commercial Cleaning Business
July 17, 2020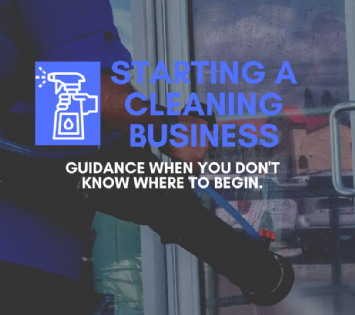 Starting a commerical cleaning business can be fun, inexpensive and easy. Your research and time in the beginning will set you up to succeed in your future.
What's the Plan?
You'll always want to have a plan when you start any business considering your brand, your mission statement and your purpose that will keep clients coming back to you. A tip of advice I once was taught was that people listen with "What's in it for me" so keep that in mind as you plan to sell your products and services to your client.
Start up costs are sometimes what can delay the process of getting started, do your research to make sure you know what your products, equipment, license and commercial insurance will cost you. Other things that may be considered a high priority are marketing materials such as a website, business cards and brochures.
Your target market is important, you will need to know what the demographics of the consumers are that will want to utilize your product and services. Don't forget to calculate your time and materials when determining the cost of your services. And most importantly, what will your business name be?
Who Are You?
Not only will the name of your company be how customers refer to you, it will also tell them who you are. Make a statement with your name that tells your customer what you represent and the type of work you do.
Then you will need to establish your legal business entity. Do your due diligence on whether you want to be a corporation or sole proprietor. Becoming an LLC will assist you with not only taxes, also you will keep your personal assets from being touched should you be involved in any legal proceedings in the future regarding your business.
Choose Your Products
Make sure you do your due diligence on the products you are using.
Customers will want to know the pro's and con's of using, not only your services, but the products you are using as well. Most customers have health in mind at this point. You will want to use something that is affordable for you and effective for them.
At ClenzOzone we use a two step system that allows us to clean and then fog over large surfaces. Our products are environmentally friendly, non-toxic and get a deep down clean with a base from a Hydrogen Peroxide, a product we have all trused for years.
Follow the Rules
Once these things are complete you get to register your business with the IRS so that you can get your Employer Identification Number (EIN). Your EIN will identify your business as the taxable entity rather then using your personal information.
At this point you can apply for your business license. Make sure you learn about state requirements and purchase the necessary liability insurance you need for the cleaning trade. Occupational licenses may be needed on the local level for cities or counties as well.
Success is Yours
Don't forget to open a bank account in your business name so you can,
make that money
.
And most importantly be prepared to stretch out of your comfort zone. When doing something you have never done before you won't have all the answers. Ask other people in the cleaning trade questions, join organizations, groups, and forums with similar business owners.
Don't be afraid to make mistakes, just learn from them and move forward. Always focus on where you are going, don't stay stuck where you have been or where you are.