What is a ClenzOzone?
July 14, 2020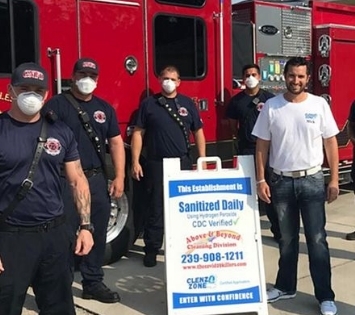 A ClenzOzone, is a business establishment that utilizes the proprietary ClenzOzone system of daily cleaning procedures to ensure they are doing as much as they can to reduce the spread of germs, bacteria, and viruses for their customers and employees.
Why Use the ClenzOzone System?
The "new normal" will require you to be able to demonstrate to your customers and employees that your establishment has made it a top priority to do as much as you can to protect their health.
What Sets the ClenzOzone System Apart?
The ClenzOzone system starts with you using our Green Flow line of products that have been formulated using the power of hydrogen peroxide (H2O2) as the active ingredient along with surface-active agents (surfactants).


According to the CDC; "Commercially available 3% Hydrogen Peroxide is a stable and effective disinfectant when used on inanimate surfaces (see Uses).


Our Green-Ox Ultra and Blue-Ox Maxx products contain 3+% H2O2 in their fog misting and hard surface formulations.


The ClenzOzone system provides you with specific cleaning procedures that you commit to following to let your customer and employees know that their health is a top priority for you.


The ClenzOzone system provides you with visible signage that is displayed outside and inside your establishment letting your customers and employees know that you are a ClenzOzone establishment committed to keeping your establishment cleaned every day.


The ClenzOzone system provides you with a complete high-end fog misting unit that allows you to treat your entire establishment daily. Our fog misting unit saves you the expense of having someone else treat your establishment daily.


In addition to a daily fog misting application, throughout the day, you treat high-touch surfaces with quart-size spray bottles that we provide.


The ClenzOzone system advertises your establishment via our website on Find a ClenzOzone.


Your customers can visit our site and see what a ClenzOzone is and that you are a ClenzOzone establishment.


Your establishment will be listed on our site, and there is a link from your listing directly to your website.


Our Green Flow line of products have no toxic fumes as experienced with many other chemical solutions, they have a pleasant lemon scent, and can be applied to every surface (hard or soft) in your establishment.
Let Your Customers and Employees Know What You Are Doing to Keep Them Safe.
Our ClenzOzone system line of products, fog misting unit, website advertisement, visible exterior, and interior signage, along with our cleaning procedures, will set you apart from other establishments by making sure your customers and employees know the steps you have taken to making their health and safety your top priority.
How Can I Become a ClenzOzone Establishment?
To set up an establishment specific consultation, please call us at
888-ClenzO2
or email
Sales
.